Considering getting online using the ZTE MC801A 5G router?
In this guide, we've reviewed the ZTE MC801A, using the router with Telenor mobile broadband.
We've looked at how easy this router is to set up and use, what download speeds and latency it offers, and whether the MC801A is good value for money.
Contents
ZTE MC801A overview
| | |
| --- | --- |
| Brand | Telenor |
| Name | 5G Home Broadband |
| Manufacturer brand | ZTE |
| Manufacturer name | MC801A |
| Dimensions | 225 x 155 x 87mm |
| Speed rating | Cat 22 |
| Ethernet ports | 2 |
| External antenna sockets | 4 |
| WiFi | 802.11a/b/g/n/ac/ax (WiFi 6), dual-band, 2x2 MIMO |
| Maximum connected devices | 30 |
| Colour | White |
| Rating | 4/5 |
| Price | Check on Telenor |
The ZTE MC801A is a 5G home broadband router that takes a SIM card, plugs into a power outlet, and creates a Wi-Fi network you can get online with.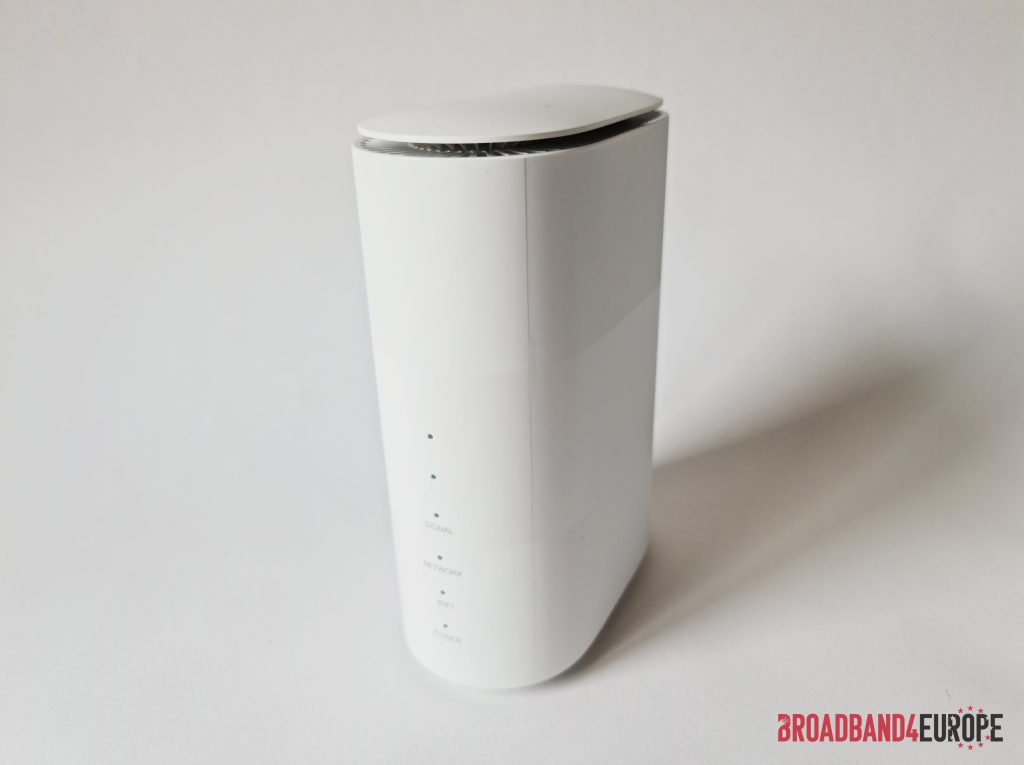 It comes with two gigabit Ethernet ports, and can support up to 30 simultaneous devices connected to the internet at once.
This router also comes with WiFi 6, giving it better wireless internet speeds and signal strength compared to WiFi 5 routers.
You can get theoretical maximum download speeds of up to 3.8 Gbps with this router, using a 5G connection. It's also possible to plug in external antennas for better signal, using the provided TS-9 ports.
Currently, you can buy the ZTE MC801A from Telenor, bundled with an optional mobile broadband subscription.

Buying the ZTE MC801A
To get our ZTE MC801A, we purchased a 5G home broadband subscription from Telenor.
This 5G broadband package came with the router and an unlimited surfing SIM card we could use it with.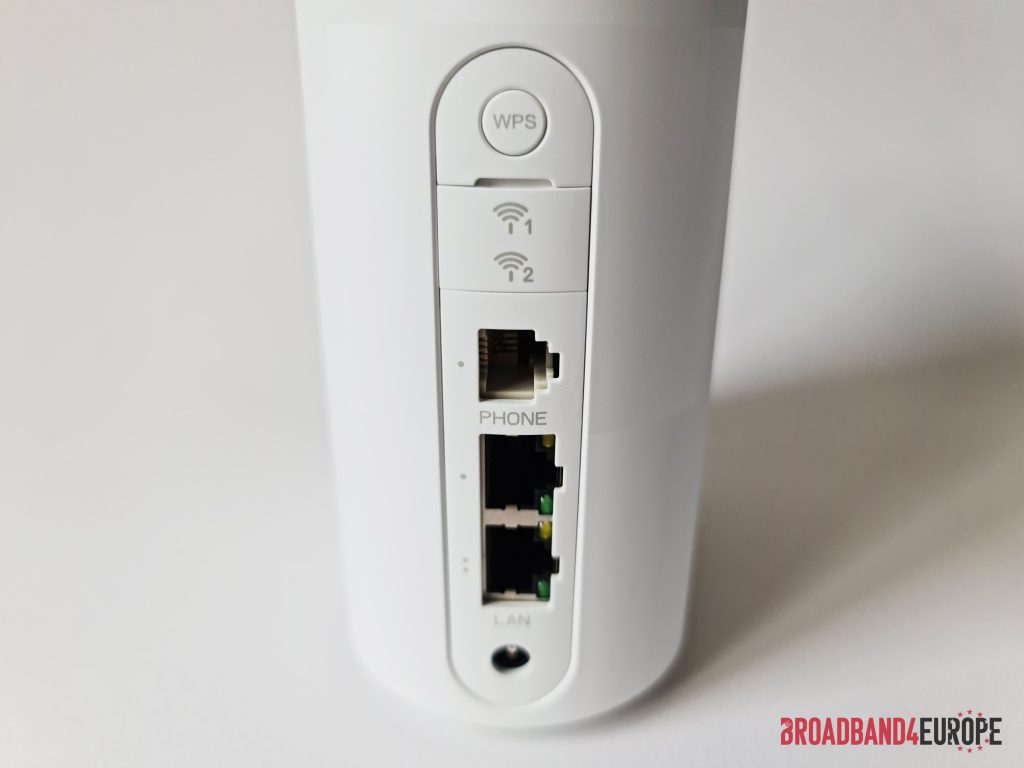 You can buy this router upfront from Telenor, but we decided to commit to a 24 month binding period, which allowed us to get online with a lower upfront fee. It also saved us the hassle of finding a compatible surfing plan we could use the router with.
Later on in this review, we've done some speed tests using this router on the Telenor network, to see what download and upload speeds you can get with this router.
Can I use the ZTE MC801A where I live?
Before buying the ZTE MC801A, or any other 5G router, it's important to make sure you have good 5G signal. Otherwise, you won't be able to get the best possible download speeds from this device.
To do this, you can use a network coverage map.
First, go to the coverage map online – here is Telenor's, as an example. Then, put in your zip code, and see if good 5G signal is available where you live.

ZTE MC801A setup process
We found the MC801A fairly easy to set up. The process to get online is quite straightforward.
When the box arrives, you'll find it comes with:
The router itself
A power cable
An Ethernet cable
A quick-start guide
A product safety guide
A SIM card (if you purchased a mobile broadband plan)
Step 1: insert the SIM card into the router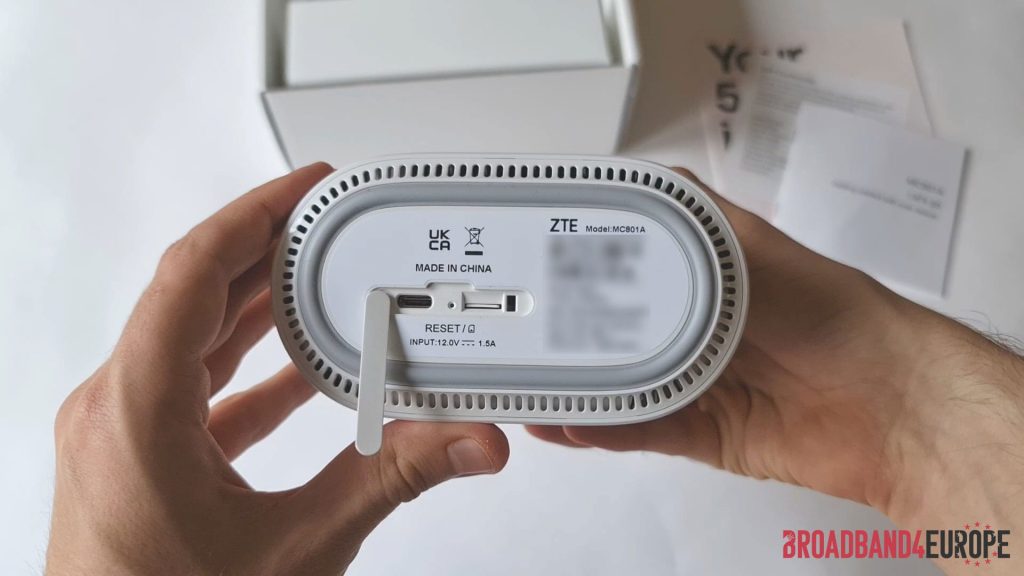 On the base of the router, there is a plastic cover that can be pulled up to reveal the SIM card slot.
Insert the SIM card, with the cut corner facing into the router. It will click into place when inserted correctly.
Note that if you receive a trio SIM (one with three different size options) from your mobile broadband provider, you want the smallest one, also known as a nano SIM card.
Step 2: plug in the router
Using the supplied power cable, plug the router into a power outlet. The router will then turn itself on automatically.
Step 3: connect to Wi-Fi
After about five minutes, the router will have connected to 5G and created a Wi-Fi network. At this stage, you can connect to Wi-Fi and get online, using the credentials printed on the label on the base of the router.

ZTE MC801A speed tests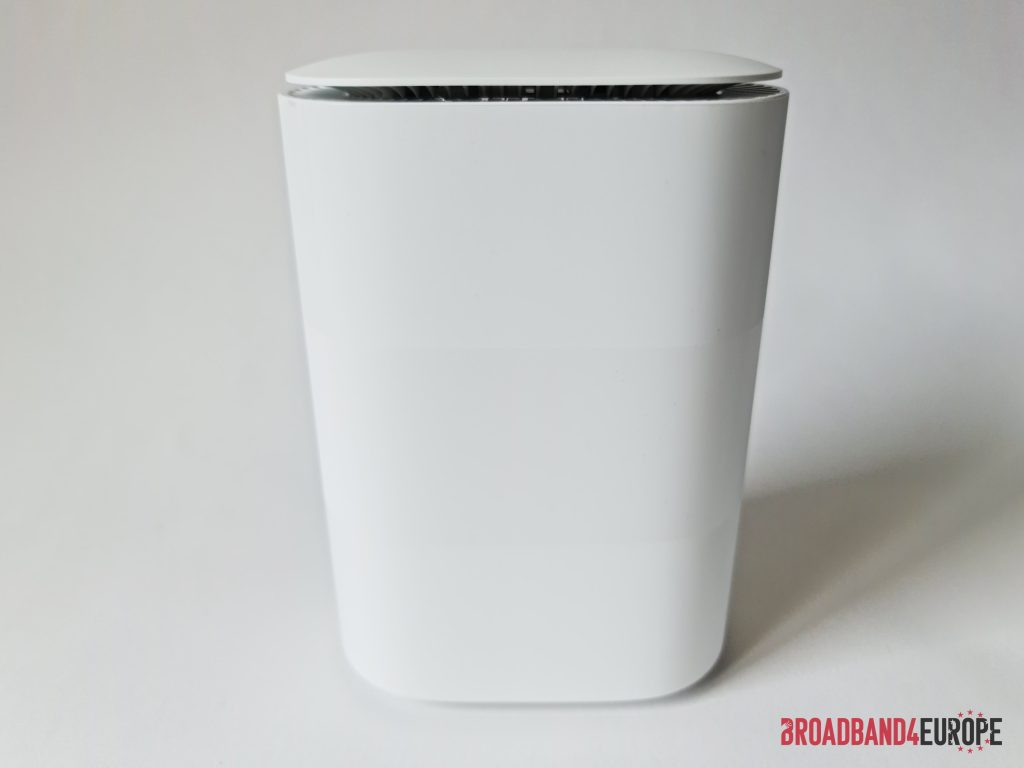 We are quite happy with the download and upload speeds we receive using the ZTE MC801A.
Remember, we are using the Telenor 5G network. Using a different provider, you may see different download speeds.
Also, we live in an area with about average 5G signal, and we have not installed any external antennas on the router. As a result, we think that our speeds are worse than average, compared to other Telenor users.
If you live somewhere with better 5G signal, you may get faster 5G speeds.
Wi-Fi speed test
A typical speed test result using Wi-Fi is:
Download speed: 254 Mbit/s
Upload speed: 16.5 Mbit/s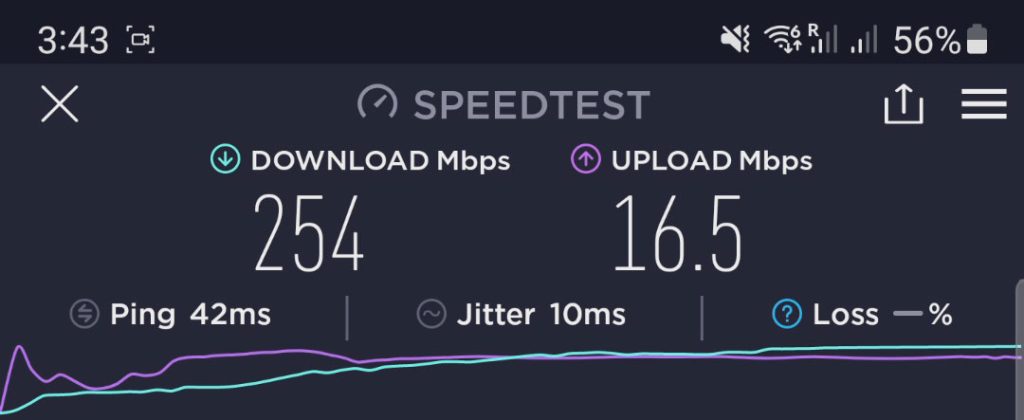 This speed test was taken in the same room as the router. When further away from the MC801A, our download speed drops to about 100 Mbit/s.
Overall, we are happy with the Wi-Fi signal provided by this router. We haven't had to use any Wi-Fi extenders or mesh Wi-Fi systems, despite using it in a four-bedroom house.
Although our speeds slow down when moving away from the router, we never have any issues with our connection dropping out, no matter which room we are in.
Our Wi-Fi signal only begins to drop out once we go into the back garden.
Ethernet speed test
Using Ethernet, we normally get:
Download speed: 284 Mbit/s
Upload speed: 11 Mbit/s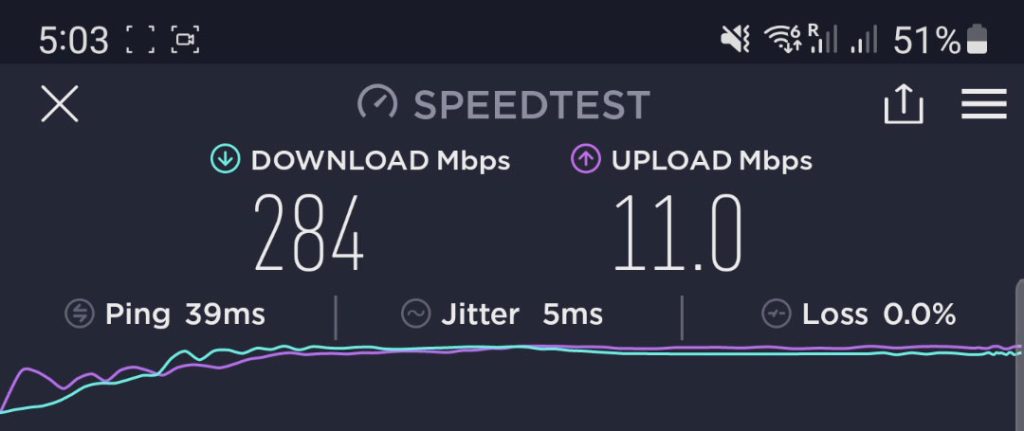 It's important to note, we have seen faster 5G download speeds using Tre mobile broadband and their Zyxel NR5103E router.
This router has more Ethernet ports, as well as a higher top speed, so we'd also recommend checking it out, especially if you don't mind paying a bit more for better signal.

ZTE MC801A latency
One of the most common downsides to using 5G broadband is the latency it offers.
Using 4G or 5G, your ping will often be higher compared to using fibre broadband.
As shown in the speed tests above, our latency using this router is normally about 40ms – from our testing, it never went below 35ms, nor did it go above 50ms.
When using a wired Ethernet connection, we were able to play online games without noticing any issues using this 5G router.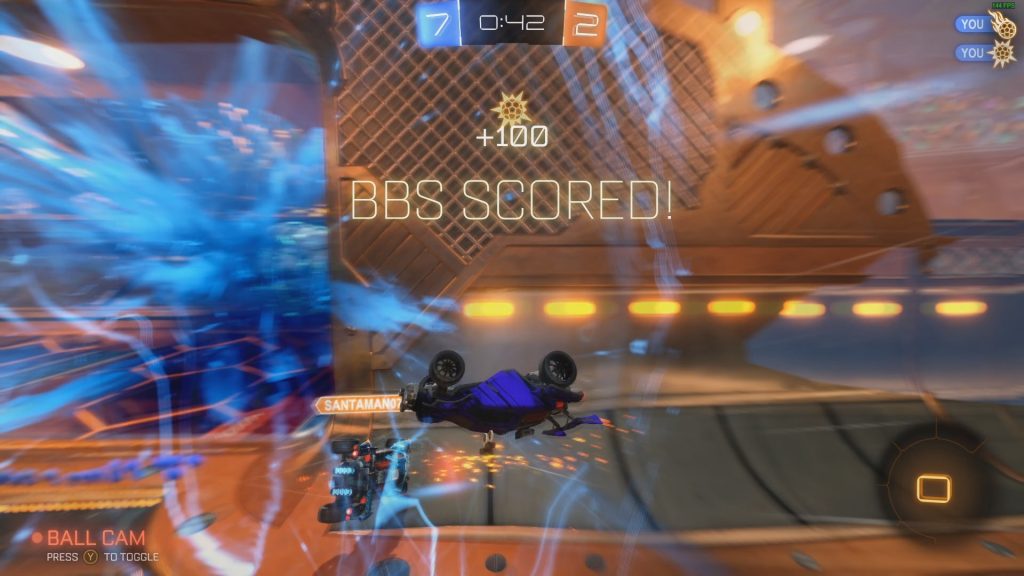 Although our ping is higher than it is using a fibre connection, we did not notice any major lag spikes or packet loss, including in very ping-sensitive games such as Rocket League.
Our ping was about 40-50ms in-game, but felt lower – we didn't experience any noticeable lag when playing.
We think that the ZTE MC801A works well for gaming, as long as you are able to use one of its Ethernet ports to connect your Playstation, Xbox or computer to the router.

ZTE MC801A value for money
When you buy this router from Telenor bundled with unlimited surfing, like we did, it offers quite good value for money.
There is a small setup fee, and you do have to commit to using Telenor for 24 months. However, after paying the upfront fee, the monthly cost from this point onwards is quite reasonable.
Compared to other 5G routers, the MC801A is usually a bit cheaper. This is because its maximum download speeds aren't as high as some other 5G broadband devices.
However, given that this router offers WiFi 6 compatibility, we think it still does offer good value if you are looking for a way to get online at home.

Verdict: should you buy the ZTE MC801A?
There are a lot of things to like about this Wi-Fi router:
It offers great wireless internet signal, since it's WiFi 6 compatible.
It's reasonably priced for a 5G router, especially if you buy it bundled from Telenor.
The MC801A offers fast 5G speeds.
This router is very easy to set up.
However, there are some downsides to the ZTE MC801A.
It only has two Ethernet ports. Some other routers come with four or more.
This mobile broadband router doesn't offer the fastest 5G speeds. Some routers, like the Zyxel NR5103E, offer better performance, although they are typically more expensive.
Overall, we rate the ZTE MC801A 4 out of 5. This is a fast 5G router, with great Wi-Fi signal, that is less expensive than many competing models.
Although the MC801A isn't the fastest 5G router on the market, it offers good speeds, low, consistent latency, and is easy to set up.
You might want to pay more for an upgraded router if you need more than two Ethernet ports, or if you want the fastest possible 5G speeds.

Other ways to get online with 5G
Not sure whether Telenor and the ZTE MC801A are the right choice for you?
Here are some other 5G mobile broadband providers, and how they (and their routers) differ from Telenor and the MC801A.
As we mentioned earlier in this review, Tre sells 5G broadband bundles with a Zyxel NR5103E router, which offers faster download speeds than the MC801A, in our experience.
We have been able to get download speeds of more than 700 Mbit/s with this router, and when you buy it from Tre, it comes with unlimited surfing, for a reasonable monthly cost.
The downside is, you have to commit for 24 months to get this Zyxel router on the Tre network. And if you buy it separately, this router is relatively expensive.
Prefer to buy your router separately, rather than having to commit to a long-term contract?
With Chili, you can get a 5G surfing plan for a reasonable monthly cost, with no upfront fee, and no binding period.
This can be a great way to get online with the MC801A if you buy the router separately. However, the initial cost of doing this will be relatively high.

Conclusion
This is the end of our review of the ZTE MC801A router.
Not sure whether to buy this 5G Wi-Fi router, or a different mobile broadband device? Leave a comment below, and we'll help out.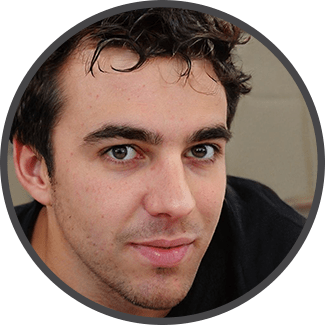 I'm Roger, and I'm the founder of Broadband 4 Europe.
I grew up in Switzerland but live in Germany now, and also lived in South Tirol for a while in the past.
I have a background in IT and have performed extensive research into the broadband markets of most major European countries. Learning about fixed-line broadband markets is my nerdy hobby, but I'm also excited by the possibilities that 5G (and eventually 6G) broadband will provide us in the future.
When I'm not researching broadband companies and their networks, you'll find me playing volleyball or the piano.