Considering getting online using Tre broadband via 5G?
In this article, we've tested and reviewed Tre mobile broadband, to see if it's any good.
We've tried out the Zyxel 5G router that Tre sells, to see how fast it is, and what its latency is like.
Before we begin, check out the Tre website to see if you can get their 5G broadband service at your address.
Let's get started.
Tre mobile broadband overview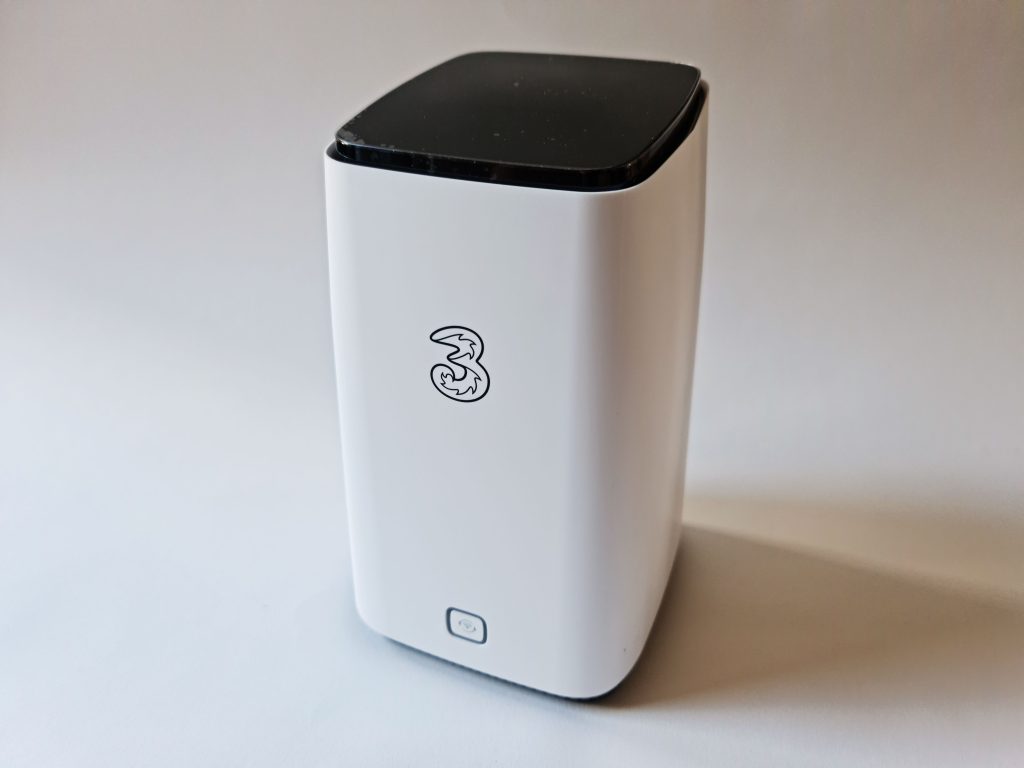 | | |
| --- | --- |
| Brand | Tre |
| Name | Mobile Broadband |
| Manufacturer brand | Zyxel |
| Manufacturer name | NR5103e |
| Dimensions | 132.5 x 134 x 230mm |
| Speed rating | Cat 22 |
| Ethernet ports | 2 |
| External antenna sockets | 4 |
| WiFi | 802.11a/b/g/n/ac/ax (WiFi 6), dual-band, 4x4 MIMO |
| Maximum connected devices | 64 |
| Colour | White |
| Rating | 4.5/5 |
| Price | Check on Tre |
Tre currently sells a mobile broadband plan designed to be used as your main way of getting online at home.
It includes a 5G router, paired with an unlimited data SIM card.
When the package arrives in the mail, you simply insert the SIM into the router, and turn it on.
The router then connects to the Tre mobile broadband network, and creates a Wi-Fi hotspot that you can use to get online.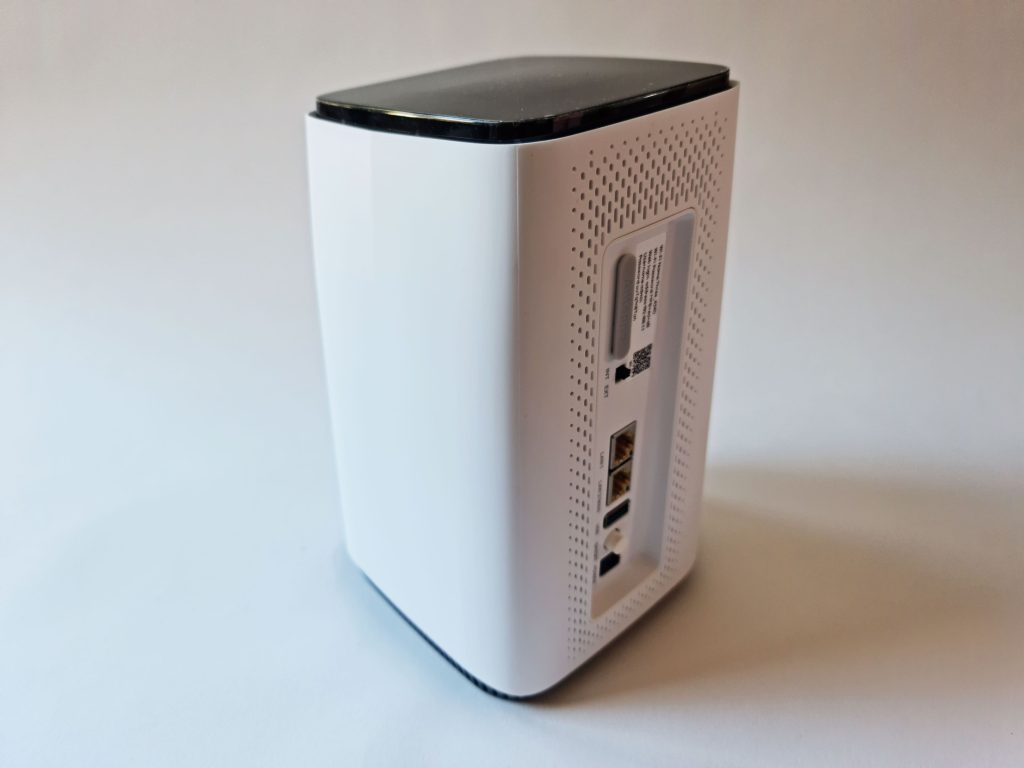 This means that unlike with a traditional fixed-line broadband connection, you don't need an engineer to come and visit to help you get online. You'll be able to connect to the internet within 20-30 minutes of the router arriving in the mail.
Tre says that you can theoretically get download speeds of up to 1000 Mbit/s using their router on their 5G+ network, but that you can expect to get a download speed of 200-600 Mbit/s on average. We've tested this router's speeds later on in the article.
If you live somewhere with great 4G signal but patchy 5G signal, Tre mobile broadband will use 5G, and switch to 4G when 5G signal is no longer available.
Buying Tre mobile broadband
Tre's mobile broadband offers are quite straightforward. Unlike when buying a fibre broadband deal, there aren't many different packages to choose from.
You have the choice of a Zyxel NR53103e indoor 5G router on its own, or a Zyxel NR7103 outdoor antenna, paired with a Zyxel EX3301 Wi-Fi router.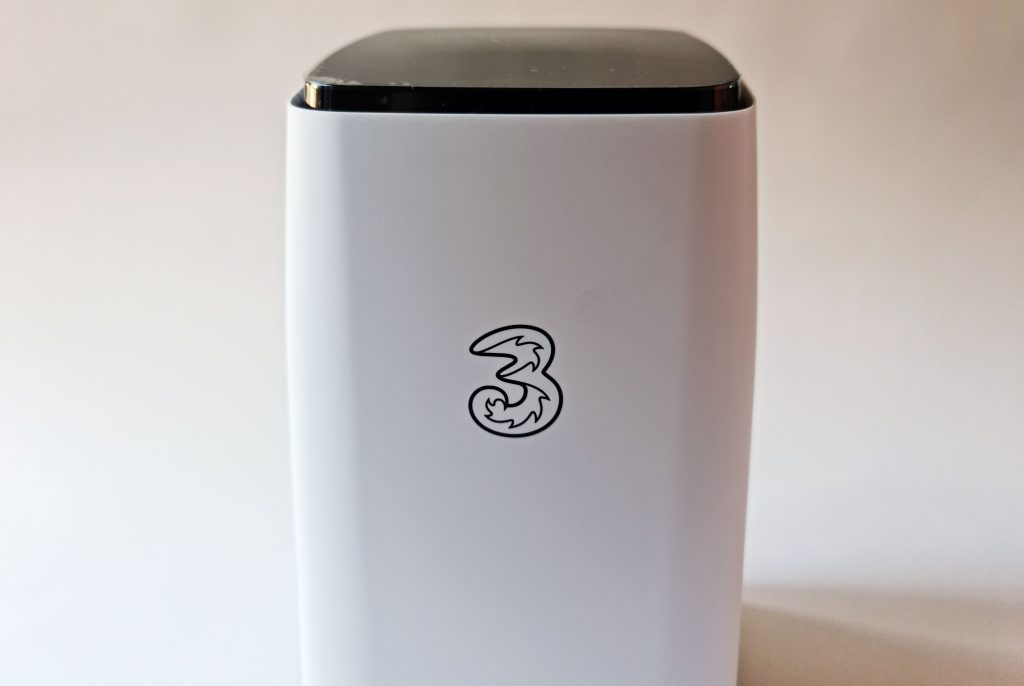 The second option is more expensive, but is better for remote summer houses, or if you live somewhere with poor 5G signal. Each of these deals comes with a 24 month contract, and unlimited data.
If you buy the outdoor router with an antenna, Three will help you install it in most parts of the country, so that you don't have to go through the trouble of setting it up yourself.
Once you place the order, the package normally arrives in 2-3 business days, and you're ready to get online.
Tre offers a 14-day return policy with this mobile broadband router. If you receive it and find that the speeds aren't as good as you like, you can send it back to them for a refund.
Note: for this review, we tested the indoor Zyxel NR5103e router, rather than the outdoor antenna and router combo.
How to set up Tre mobile broadband
If you've never used 5G broadband before, you might be wondering what the process of getting set up is like.
We found that setting up Tre broadband was very easy. Here's what you need to do.
Step #1: unbox the router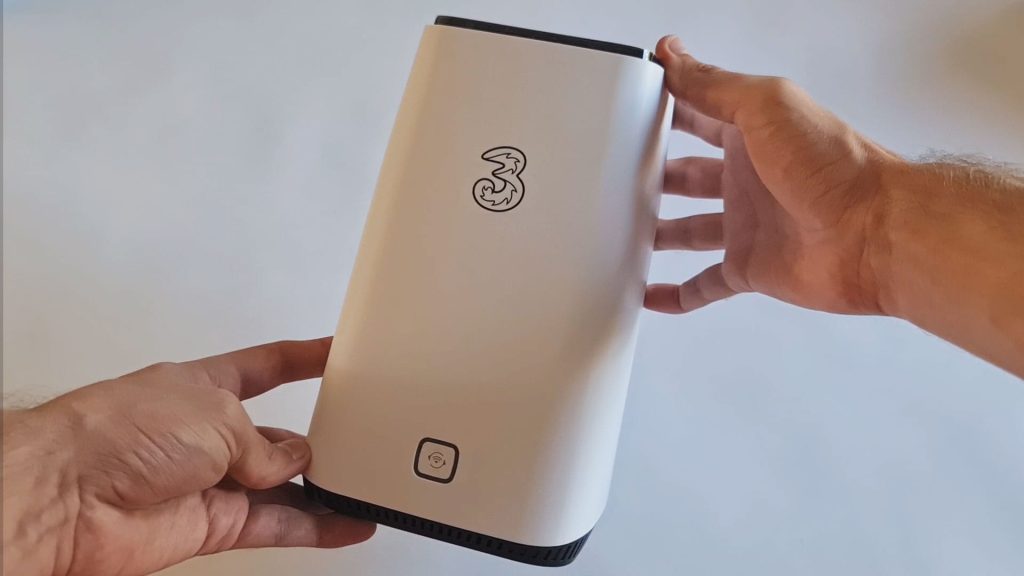 Take the router out of its box, along with the SIM card, instruction booklet, power cable, and included Ethernet cable.
Step #2: insert the SIM card into the router
Open the SIM card packet, and punch out the micro SIM card (the second-smallest one).
Insert it into the slot on the bottom of the router, with the cut corner facing inward.
Step #3: plug in the router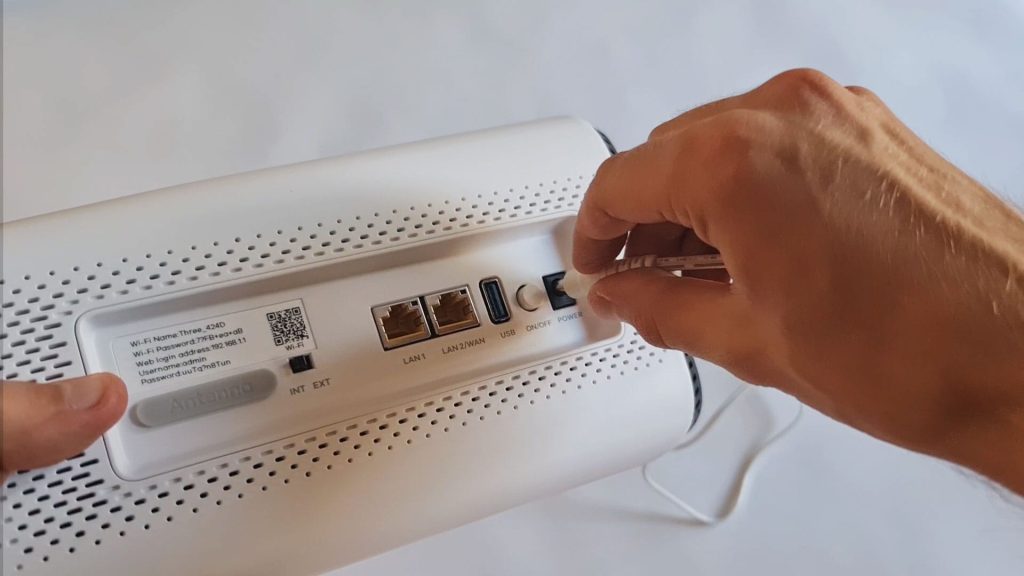 Grab the power cable, plug it into the router, and then plug the other end into a wall socket.
Step #4: turn on the router
Once the router is plugged in, press the on button on the back, next to the power button.
When turning it on for the first time, the router will take a few minutes to set itself up. When it's ready, the lights on the top will turn green.
If you have issues getting the 4G/5G signal light to turn green, we recommend trying to place the router somewhere else in your house. It could be that where you've set it up has poor mobile signal.
Step #5: connect to Wi-Fi
At this point, you're ready to connect to the router's Wi-Fi network. To do this, use the login credentials printed on the sticker on the side of the router.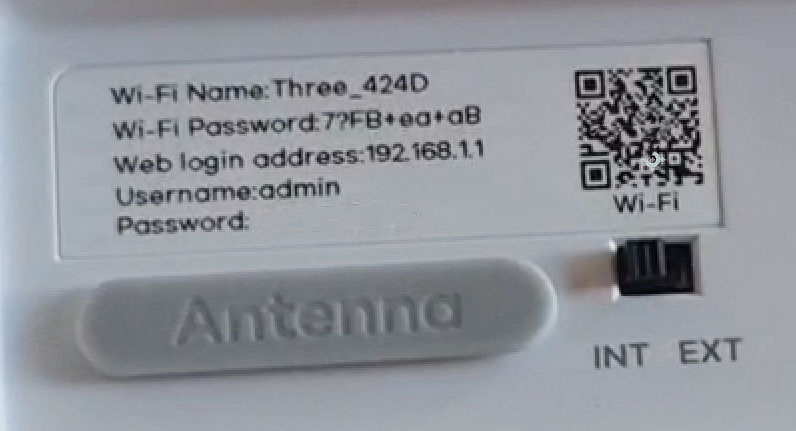 Tre mobile broadband speeds
We extensively tested the download and upload speeds of the Tre 5G router over Wi-Fi and Ethernet in order to measure its performance.
It's important to note, these tests were performed after a bit of experimentation to get the router in the right position in the house. It's quite important that the router is in a good location in order to consistently get speeds of 500 Mbit/s or more.
In the end, we found that the best spot for it was an upstairs windowsill.
Over Ethernet, we averaged download speeds of 400-500 Mbit/s, and saw a maximum download speed of just over 700 Mbit/s.
Over Wi-Fi, we averaged a download speed of about 300-400 Mbit/s, and saw a maximum download speed of about 500 Mbit/s. The router's Wi-Fi signal range is pretty typical compared to a traditional Wi-Fi router that a fibre broadband provider might send you.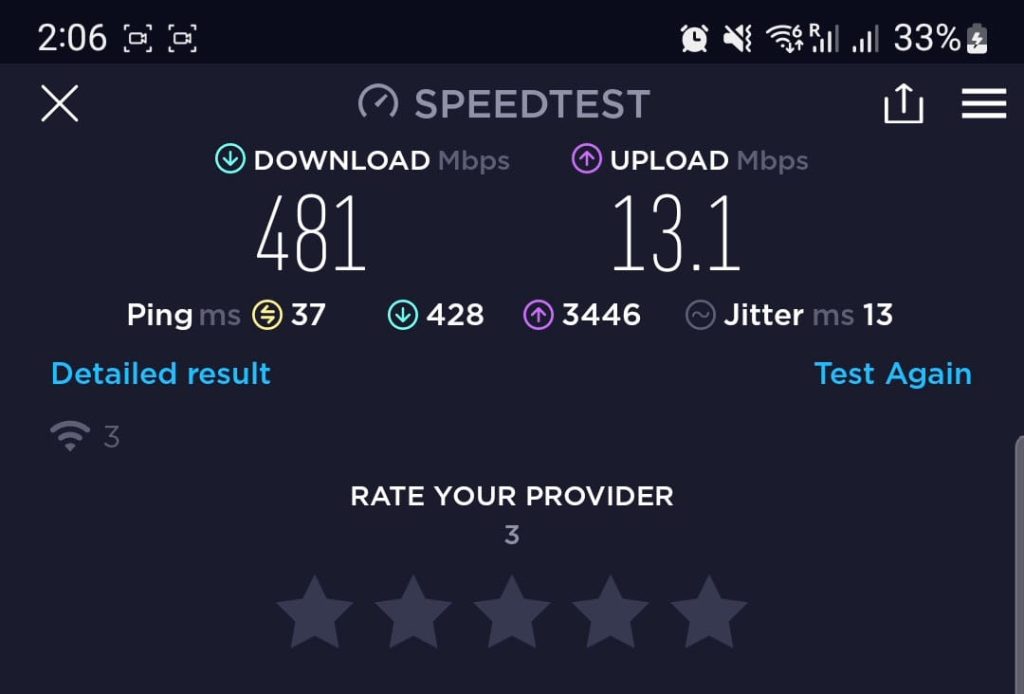 We are pretty happy with the speeds we receive with Tre 5G mobile broadband, given the monthly cost we are paying.
Although we have not seen the 1000 Mbit/s maximum speeds that are supposedly on offer, these download speeds were plenty fast enough for our needs.
We typically recorded an upload speed of about 5-15 Mbit/s, depending on how far away we were from the router – you shouldn't expect your upload speeds to match your download speeds with Tre broadband.
Tre mobile broadband latency
One of the common downsides of mobile broadband compared to fibre broadband is its latency – how long it takes small packets of information to be sent or received.
With a higher latency, you will notice more lag when playing online games. With extremely high latency, you may also notice lag or buffering on Zoom or Microsoft Teams calls.
We therefore did a lot of testing of the 5G router's latency to ensure it was suitable for our needs.
Over Ethernet, we generally recorded a latency of about 30-40 ms, using speedtest.net.
Over Wi-Fi, we saw a similar result, although the latency would increase if we moved to the other side of the house from the router.
We also tested Tre mobile broadband when playing online games, such as Rocket League, using a wired internet connection from the router to a PC.
In general, our ping was 15-25 ms higher than when using fibre broadband, when connecting to the same game servers. However, we did not notice any significant ping spikes or latency issues that significantly affected our gameplay.
If you're a more casual gamer, rather than a competitive player, you should be fine using this Zyxel wireless router from Tre to get online. However, we would definitely recommend using an Ethernet connection when gaming if possible.
Where can you use Tre mobile broadband?
Here is a map of Tre's mobile network coverage in Sweden: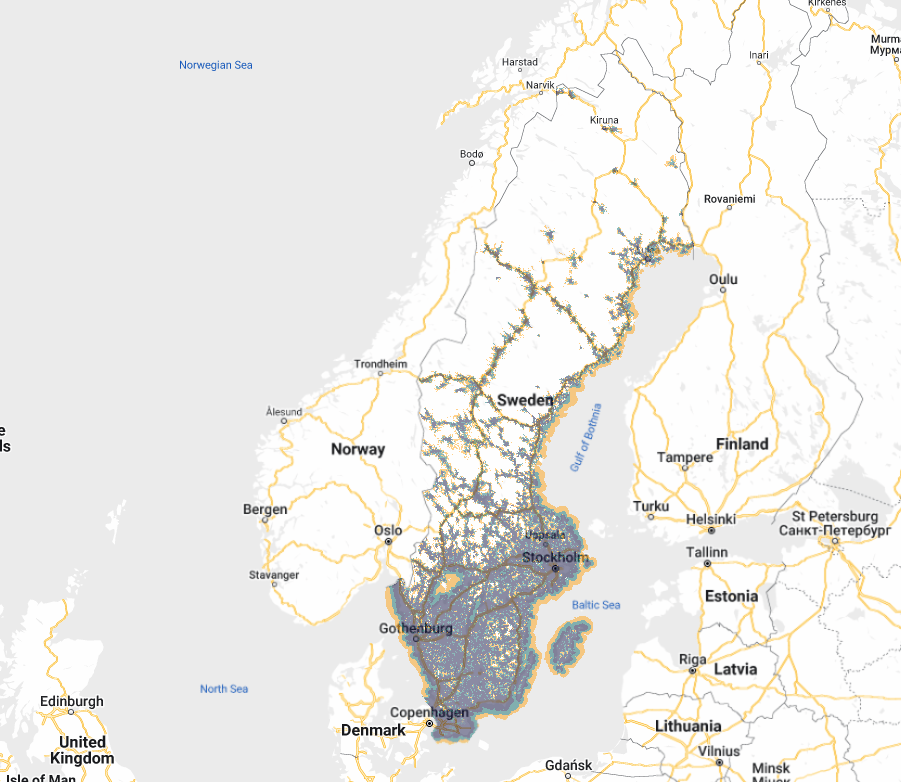 This is an old map, which focuses on 4G signal. However, it still shows the same areas where 5G masts are now installed.
If you live in one of the dark grey areas, you'll most likely be able to use Tre 5G broadband, and get good speeds from this device.
To tell for certain, go to the Tre coverage checker on their website, and put in your postcode.
It's important to note, once you have this router, you can use it anywhere in the country. You're not just limited to using it at a certain address, like with a traditional broadband connection.
This means you can take it to the summer house for example – all you need to do is unplug the router, take it with you, and plug it in at your second address.
Tre mobile broadband value for money
Tre broadband costs about the same as buying a cheap fibre broadband plan, with a download speed of around 100 Mbit/s. But in return for your money, you get:
Faster download speeds.
The ability to get online almost anywhere in the country.
A much easier set up process.
A 14-day money-back guarantee. Most fibre providers don't offer this.
Given what it costs, and the fact that there's no upfront cost, we'd say that Tre broadband is very good value for money.
Also, Tre offers a discount on their mobile broadband plans if you're an existing Tre mobile customer, and have a plan with at least a 20GB monthly data allowance.
Verdict: should you buy Tre 5G broadband?
Overall, we rate Tre mobile broadband 4.5 out of 5.
It offers fast download speeds and good upload speeds, with unlimited data, for a reasonable monthly price.
Although Tre broadband's latency is higher than using fibre broadband, we didn't experience any lag spikes when playing online games, and the router offers good Wi-Fi connectivity.
You can use Tre 5G broadband anywhere in the country that you can connect to their mobile network, and this router is also very easy to set up.
The downsides we found to Tre broadband were the fact that its latency is higher than using fibre, and the fact that you have to commit to a 24 month contract. We also didn't achieve the theoretical maximum 1000+ Mbit/s download speeds advertised.
However, Tre still offers the best value 5G home broadband service in Sweden, as most other providers only offer 4G speeds, or have a data usage limit. And using their router, you can get faster speeds than if you paid for a similarly-priced fibre broadband plan.
Tre mobile broadband alternatives
If you're unsure about buying 5G broadband with Tre, here are some alternatives you might like to consider.
In our opinion, Tre's broadband solution is normally a better choice than these alternatives, as long as you don't mind committing to a 24 month contract.
Many of these other mobile broadband providers either don't offer 5G speeds, have data usage limits, or make you buy the Wi-Fi router yourself, rather than including it for free.
1. Telia mobile broadband
If you don't use mobile broadband as your main way of getting online, Telia offers cheaper plans than Tre, although they do come with a monthly data limit.
Although Telia is cheaper, and doesn't have a lock-in contract, they only offer 4G speeds. Also, if you don't have one already, you have to buy the router from them, rather than getting it for free.
We'd only recommend Telia if you don't use mobile broadband much, and can't get Three 5G speeds where you live.
2. Chili mobile broadband
Unlike Telia, Chili offers 5G data with their mobile broadband plans, and they also include unlimited downloads.
Their offers aren't too expensive, and they give you the option of buying a slower-speed plan if you're like to save money.
The issue is, you have to buy a router yourself, which will be 600-700 SEK if you choose to purchase Chili's one.
3. Telenor mobile broadband
Like these other two competitors, Telenor just sends you a SIM card with their mobile broadband plans, rather than including a router.
They only offer 4G speeds, but their plans are reasonably priced, especially the ones with a 40-100GB monthly data limit, and there are no upfront costs.
The problem is, their unlimited data plan is about the same price as Tre, even though it doesn't include a router you can use to get online with lots of different devices.
Conclusion
You've reached the end of our review of Tre broadband via 5G.
Still not sure whether or not Tre mobile broadband is the right way for you to get online? Leave a comment, and we'll respond as soon as we can.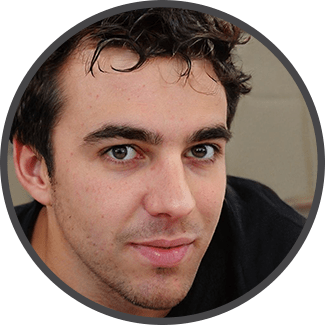 I'm Roger, and I'm the founder of Broadband 4 Europe.
I grew up in Switzerland but live in Germany now, and also lived in South Tirol for a while in the past.
I have a background in IT and have performed extensive research into the broadband markets of most major European countries. Learning about fixed-line broadband markets is my nerdy hobby, but I'm also excited by the possibilities that 5G (and eventually 6G) broadband will provide us in the future.
When I'm not researching broadband companies and their networks, you'll find me playing volleyball or the piano.