An often heard motivation for people to illegally download or stream content is the long gap between a movie's theatrical release and its debut through other channels. New research shows that for digital downloads this gap is shrinking rapidly. But is that enough?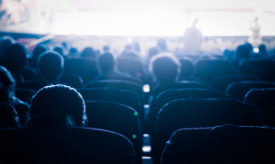 After a film first shows up in theaters, movie fans usually have to wait a few months before they can get a DVD or digital download, depending on the local release strategy.
This delay tactic, known as a release window, helps movie theaters to maximize their revenues. However, for many pirates, this is also a reason to turn to unauthorized sites and services.
Many of the most pirated movie titles are not yet available to buy or rent online, but they are on The Pirate Bay, Fmovies, and elsewhere. Perhaps only a fraction of these pirates would pay, if they could, but release windows are not helping.
This critique isn't new and, according to a working paper published by Pepperdine University researchers, the tide is turning. Movie release windows are shrinking rapidly, for digital downloads at least.
In their paper titled: Popcorn or Snack? Empirical Analysis of Movie Release Windows, the researchers compared the release windows of DVDs to those of electronic sell-through movies (EST) on iTunes, Amazon, and YouTube. EST movies are also called "download to own" and have a comparable release date to rentals, in most cases.
The results show that between 2012 and 2017, the release windows for DVDs remained relatively stable at three to four months. However, for digital downloads there was a sharp decrease over the same period.
"Based on our results, the EST release date has been approaching the DVD release date at a steady and significant average rate of about 23 days per year," the researchers write.
"Within only two years, we have seen the average EST release window shrink by more than half, from 255 days in the 2nd quarter of 2012 to 114 days in the 2nd quarter of 2014. The EST window has pretty much reached the average 113 day DVD window in our sample."
Source: Torrentfreak.com