he authorization for this week's mission—designated Flight VA237 in Arianespace's launcher family numbering system—followed today's Launch Readiness Review, which confirmed the "go" status for Ariane 5, its two spacecraft passengers, the Spaceport infrastructure and the network of tracking stations.
Flight VA237's Ariane 5 is now ready for rollout from the Final Assembly Building, where ViaSat-2 and EUTELSAT 172B were integrated on the launcher, to the Spaceport's ELA-3 launch zone.
Liftoff will commence as soon as possible in a one-hour launch window that opens at 8:45 p.m. in French Guiana (between 23:45 and 00:45 Universal Time, during the night of June 1 to June 2).
ViaSat-2 and EUTELSAT 172B will be deployed into geostationary transfer orbit on a mission lasting just under 42 minutes.
Released first will be ViaSat-2, which is expected to bring considerable improvements in terms of speed, lower costs and extended broadband coverage within its footprint, which includes North and Central America, plus the Caribbean, northern South America, and the aeronautical and maritime routes in the Atlantic Ocean between North America and Europe. As a global broadband services and technology company, ViaSat operates from corporate headquarters in Carlsbad, California.
ViaSat-2 was built by Boeing in El Segundo, California, using a 702HP platform, and will be positioned at 70 deg. West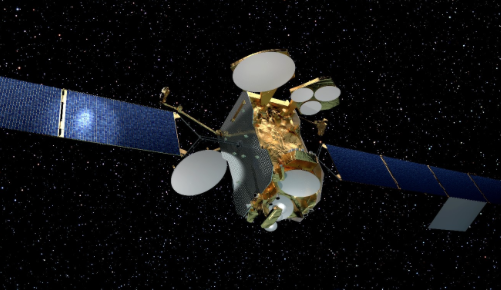 EUTELSAT 172B's deployment by Ariane 5 will complete Arianespace's Flight VA237. Operating at an orbital position of 172 deg. East for Asia-Pacific reach over land and sea from Alaska to Australia, the relay platform will deliver increased capacity for fast-growing applications that include in-flight and maritime connectivity, cellular backhaul, corporate networks, video distribution and government services. This satellite will join the fleet of Paris-based Eutelsat, a leading satellite operator in Europe, the Middle East and Africa.
Using the new all-electric Eurostar E3000 EOR (Electric Orbit Raising) platform assembled by Airbus in Toulouse, France, EUTELSAT 172B is the initial all-electric telecommunications satellite built in Europe – and the first of its type orbited by Ariane 5.
Flight VA237 maintains Arianespace's busy launch schedule in 2017, during which the company is targeting a total of 12 flights using its heavy-lift Ariane 5, medium-lift Soyuz and lightweight Vega vehicles. The five missions already performed this year have utilized two Ariane 5s, two Soyuz launchers and one Vega.